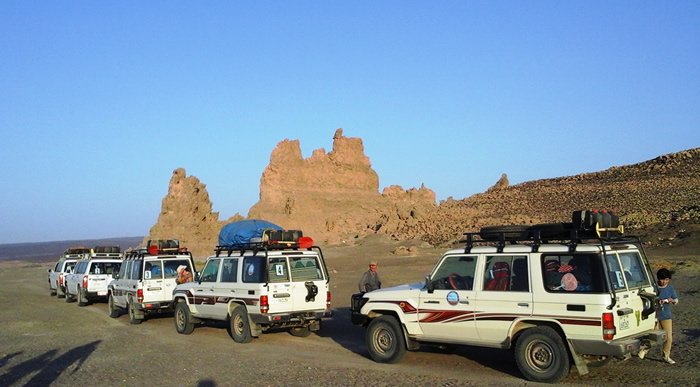 African Adventure Tours is one of the best privately owned tour operators in Ethiopia. We are a team of dedicated, professional staff, with the goal to accomplish your individual travel requests. We are committed to the development of responsible tourism within the country, as that provides real and tangible benefits to both visitors and the local communities.

African Adventure Tours operates a wide variety of Ethiopia travel and tour packages, covering all interests and all budgets. Whether you are looking for history, culture, trekking, bird watching, safari or combined tour programs, African Adventure Tours will organize your individual travel requests. In addition to our normal tour itineraries we also offer visits to out of the way, hard to get to or seldom visited destinations. Whatever type of service you request we are here to handle your request.

A own fleet of modern vehicles guarantees modern logistical support and adds to a smooth tour operation and to maximum satisfaction of the visitor.
Michael Gerrish
Since Michael came the first time to Ethiopia, this fascinating country never let him go again. Years and many travels later, he decided to share his fascination with others and founded African Adventure Tours together with his good friend Abebe Haregewion. An eye for the detail, great reliability as well as good value for money made African Adventure Tours since then a success. Today Michael is leading the office in his hometown Sydney, Australia.
Abebe Haregewion
In Ethiopia Abebe Haregewion is leading the company successfully since 2002. Abebe, a former teacher and agriculturalist, has finally found his profession in tourism. His former experiences give him a detailed knowledge of all the ethnic, fauna and flora as well as good communication skills. During the last years Abebe has been guiding tourists to all spectacular and sometimes remote tourist attractions in Ethiopia. There is no part of Ethiopia where Abebe doesn't know his way, even so his work now lies mostly in the office. Abebe takes a special interest in the history of his country and the culture of the many different tribes.
AAT Tour Guides
AAT Tour Guides are experienced, well trained graduates from tourism college and speak fluent English. They have expert knowledge of the country's history, the cultures of the many tribes and Ethiopia's wildlife and will share their enthusiasm with you. Once on the ground with African Adventure Tours you are in excellent hands and you will immediately feel safe and welcome.
The drivers
The drivers too are well experienced and have widely traveled throughout the country. They have developed smooth relationships with local people in every corner of the country. They have good linguistic skills and sometimes work as driver guides.
Kibru Kassa
Working as a tour guide Kibru has a special interest in the history, the culture and the religion Ethiopia's. His enthusiasm will spread to anyone who wants to know more about this fascinating country. As a former English teacher Kibru worked a lot with youth and children, also for Non-Profit Organizations.
Iyasu Haregewion
Iyasu, Abebes brother, worked long years as a Physical education teacher and is committed to the youth of his community. He speaks fluent English and has technical knowledge about the vehicles. He has long experience as a driver guide and knows his way throughout Ethiopia.
Selamawit Tegen
Selamawit is in charge of reservations, clients inquiries and anything else in the office in Addis Ababa. She is the helping hand for all wishes and requests.
Alexandra Moor
Alexandra was born in Romania but grew up in Germany. Her love for travelling, trekking and wildlife has brought her through half the world and now to Ethiopia. She is the contact person for Germany.
bereket fufa
Is a very good and experienced driver. He knows every corner and every pit hole on Ethiopia's roads and maintains a friendly relationship to the locals throughout the country.
Robel Teferi
Robel is a young and funny, but also experienced driver, who has accompanied many tours so far. His smile and his friendly personality will add to any tour.