Bahir Dar
In a scenic location, on the southern shore of Lake Tana at 1830 m altitude, lays Bahir Dar, the capital of the Amhara people. The wide avenues lined with palms and flamboyant trees as well as its relaxed atmosphere and lake side resorts make Bahir Dar a charming resort destination.
Lake Tana and it's island monasteries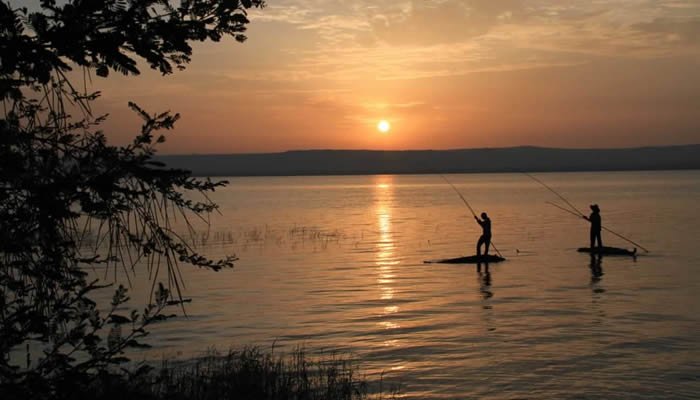 Lake Tana, the largest lake in Ethiopia is the source of the Blue Nile. From here it starts its long journey to Khartoum and on to the Mediterranean. The lakeshores and the islands offer a variety of habitats and make with their local and migratory birdlife an ideal place for birdwatchers.
Thirty of the lakes thirty-seven islands host churches and monasteries of considerable historical and cultural interest, some of which have histories dating back to the 13th century. Most of the churches are only open for men, but on the banks of the lake are many more such as Ura Kidane Mehret and Narga Selassie on the Zege peninsula, which are also open for women.

Some of the most interesting monasteries (only open for men) are Kebran Gabriel with its impressive cathedral-like building first built in the 17th century, Dega Estephanos which can only be reached on a very steep path, Birgida Maryam, Dek, Narga, Tana Cherkos, Mitsele Fasiledes und Debre Maryam. A boat trip to Gorgora, on the northern shore of the lake, leads to the Susneyos palace, a forerunner of the magnificent castles of Gondar. Nearby lays the medieval church of Debre Sina Mariam.
The Blue Nile Falls
Blue Nile Fall 3 Some 30 km from Bahir Dar, near the little town of Tiss-Abay lay the impressive Blue Nile Falls. The sudden plunge of the Blue Nile over a 45 m cliff forms a wide curtain of water and mist. Millions of liters of water cascade into a gorge, creating spectacular rainbows, in one of the most awe-inspiring displays in Africa, earning them the name "Smoking Water".

Unfortunately, the recently built hydroelectric power plant diverts a big part of the water when in function. Even if not as impressive as they used to be, the Blue Nile Falls are definitely worth a visit. On the way you will pass the first footbridge over the river, built by Emperor Susynios in the year 1620 with the help of an Indian mason. At these spot the river goes down to the depth of 70 meters.
Select a trip to Bahir Dar from any of the link Historical trips