Haiq Estifanos
North of Dessie lays the famous monastery of Haiq Estifanos, built in the 13th century. In former times the church was a great supporter of the Solomonic dynasty of Lalibela. Only monks live and serve here. The monastery preserves wooden and stone relics of the days of its foundation.
Gishen Mariam
If you follow the winding road west of Dessie, crossing the Bishlo River you will come to one of the most sacred churches in Ethiopia, situated between marvelous table lands. Underneath of the church a original fragrance of the "True cross" is buried, which was brought to Ethiopia by Emperor Zerea Yeaekob in the 15th century. Thousands of pilgrims come here every year on October 1st to commemorate the occasion.

Refer to: link Pilgrimage Tours
Meqdela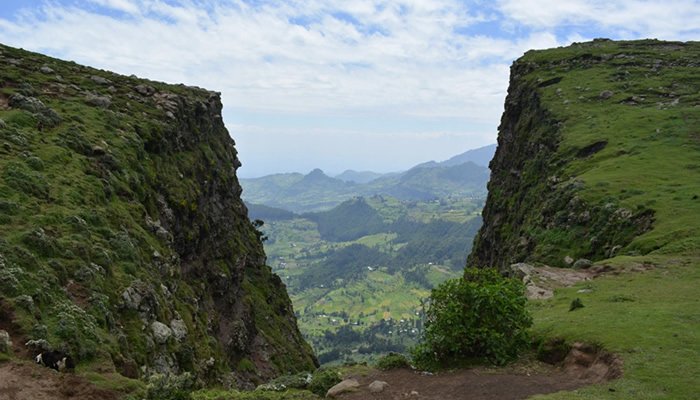 Situated between beautiful landscapes on a plateau overlooking the Sebastopol Canyon, Maqdela is the place for both trekkers and historians. As the power of the Gondar was weakened by the presence of the Oromo, as well as by the doctrinal disputes of the church, real power passed to regional warlords. This chaotic time period is called the Era of the Princes. The decades of civil war ended in 1855 when warlord Tewodros II became the emperor of Ethiopia. Meqdela became his capital and military base. Emperor Tewodros II had ambitious planes to bring technical improvements to Ethiopia and asked the British Queen Victoria for help. Unfortunately her answer came with great delay so Tewodros II imprisoned all British people in the country.

As communication failed a expedition was planned to free the captives kept in Maqdela. General Napier lead this expedition accompanied by infantry, artillery, cavalry - together about 4000 men - and over 35.000 packing animals, including camels and elephants. The 390 mile long expedition began in Kumayli, at the Red Sea, crossing Eritrea, along Lake Hashengie and ended finally in Maqdela. Tewodros II committed suicide when he was defeated by the English troops. At Meqdela one can see the remains of the cannon, in which Tewodros II put all his hopes, in the battle against the English, but which burst on the first shot. Also the old church and the remains of his palace are still visible and can be visited on foot or by mule.